Entrusted by the Ministry of Health of China and sent by WHO fellowship program:

In September 2009, two acupuncturists from Vietnam studied in the Department of Acupuncture and Moxibustion at Guang 'anmen Hospital for a week, and investigated the treatment and management mode of stroke patients in the department and the Beijing Rehabilitation Research Center, to acquire first-hand information for the establishment of an acupuncture and moxibustion center in Vietnam.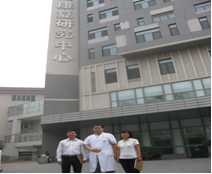 Vietnamese acupuncturists visited Beijing Rehabilitation Research Center
In October 2009, four doctors from Democratic People's Republic of Korea (DPRK) studied for 10 days at Guang'anmen Hospital, with the main goal of learning the clinical application of Chinese herbal medicine. In order to acquire more knowledge of Chinese herbal medicine, they also visited a Chinese herbal medicine factory and a herbal medicine museum in addition to clinical observation and learning.

In November 2011, four doctors and administrators from the Academy of Medical Sciences of DPRK attended clinical studies in the departments of acupuncture, Chinese massage, oncology, rheumatology, dermatology, respiratory, cardiovascular, and pediatrics at Guang'anmen Hospital and had in-depth discussions with experts on their concerns. At the same time, in order to have a comprehensive understanding of traditional Chinese medicine and hospital management, they also visited the Acupuncture and Moxibustion Institute, Institute of Traditional Chinese Medicine, Pharmaceutical Factory of Guang'anmen Hospital, and Tongrentang Museum, etc.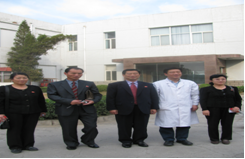 DPRK doctors visited the pharmaceutical factory of Guang 'anmen Hospital