Delegation Led by Tommy Li, President of the Hong Kong Federation of Traditional Chinese Medicine Industry, Visited Guang'anmen Hospital
On the morning of April 25th, Tommy Li, the President of the Hong Kong Federation of Traditional Chinese Medicine(TCM) Industry and his delegation visited Guang 'anmen hospital. They visited the hospital history exhibition, outpatients of cardiovascular and acupuncture departments, TCM dispensing and hospital culture exhibition, and learned about TCM advantages and characteristics in this hospital. Both sides had in-depth discussions on the development of TCM in Beijing and Hong Kong, focusing on jointly promoting TCM inheritance, innovation and development.
The delegation highly praised the achievements made by the hospital in promoting TCM inheritance, innovation and development, scientific research innovation, and the construction of TCM specialty. Tommy Li pointed out that TCM industry in Hong Kong started relatively late and has steadily developed through the unremitting efforts of several generations of TCM practitioners. He hoped to create more learning and exchange opportunities in the future, enhance communication and cooperation in TCM between Beijing and Hong Kong, and provide new ideas and opportunities for TCM development in both regions.
Lyu Wenliang, vice president of the hospital, introduced to the delegation the hospital over 60 years development process, the achievements in medical services, technological innovation, talent cultivation, international exchanges, etc. He pointed out that Guang'anmen hospital has always adhered to highlighting TCM unique advantages and created TCM specialties represented by tumors, cardiovascular diseases and rheumatism, providing strong support and guarantee for offering more high-quality medical services to the patients.
Wang Xiaopin, secretary of the party committee of the hospital, warmly welcomed the delegation. She said that Guang 'anmen hospital has a long history of friendship with TCM industry in Hong Kong, and the two sides have jointly carried out multiple academic exchange activities, laying a solid foundation for cooperation. In particular, during the fight against COVID-19, academician Tong Xiaolin went to Hong Kong as the leader of the Central TCM Expert Group to assist Hong Kong, bringing confidence in the fight against COVID-19 with TCM. She hoped that under the TCM development strategy, the TCM industry of the two places should further enhance their friendship, learn from each other and complement each other's advantages. She also looked forward to developing close cooperation with Hong Kong TCM industry and jointly opening up a broader platform for cooperation in the future.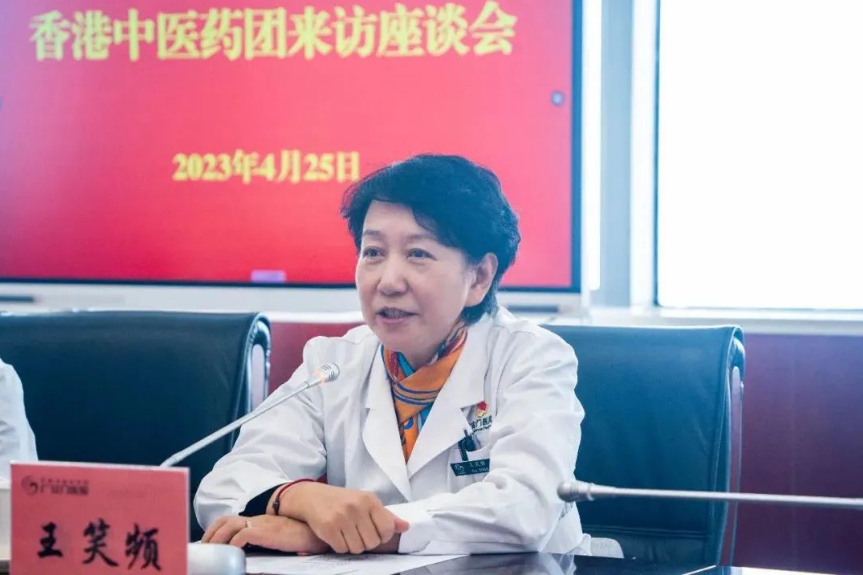 The visit of the Hong Kong TCM delegation has enhanced mutual understanding between the TCM industry in Hong Kong and the hospital, laying the foundation for cooperation between the TCM industries of both side in TCM inheritance, innovation, and development.